Many of you have contributed to this new version. Evalyzer 2016 is now available and incorporates your suggestions! Among the main new features that will optimize your user tests, you'll find post-task questionnaires, automatic generation of PowerPoint reports, and a new interface for creating user tests.
Validate your mockups and prototypes
Test your static mockups (e.g. Balsamiq and PowerPoint) with first-click testing. Ask your participants which version of your mockup they prefer using questions with multiple images.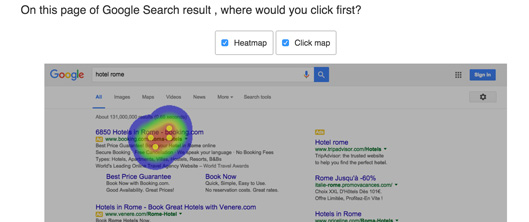 Make the most of your feedback
Ask your participants questions straight after each task to gain a clearer insight into their behaviour and accurately measure their satisfaction levels.
.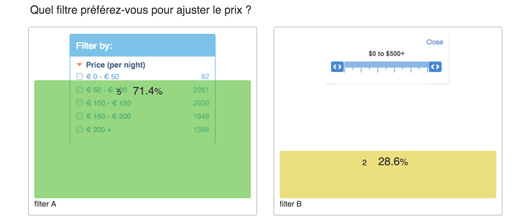 Get qualitative metrics
Make it easier to analyze your questionnaires with automatic processing of System Usability Scale and Net Promoter Score.

Your 1-click PowerPoint report
Speed up the presentation of your test results with automatic generation of your white-label test report in PowerPoint format.
.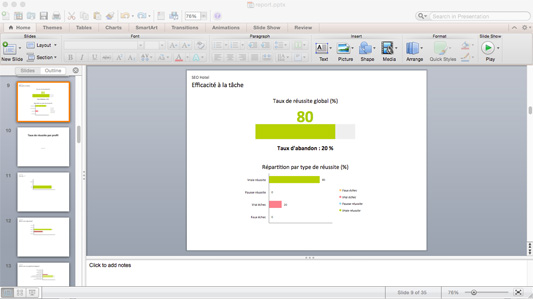 Evalyzer automatically segments your participants' profiles
Do you want to know if a given age group finds it harder to use your website than other age groups? Or if the user experience is as effective for your prospects as it is for your customers? Evalyzer automatically segments the profiles of the participants in your user test.

---
List of all the new features for 2016
Creating a user test design
A new, more flexible and intuitive interface
We have made sure that creating a user test is a truly enjoyable experience that boosts your productivity.

Option to create post-task questionnaires
This was one of your frequent requests, which has now been implemented. You can add as many questions as you like after each task. This provides you with instant feedback about each test scenario. For a UX benchmark, you can compare user satisfaction for your tested websites.

Option to select tasks that you want to randomize
As well as randomly displaying the tasks in your test, you can define specific tasks as random, while others will remain static. For example, you could have an initial task that asks your participants to log into their account on the tested website, then all subsequent tasks will be presented in random order.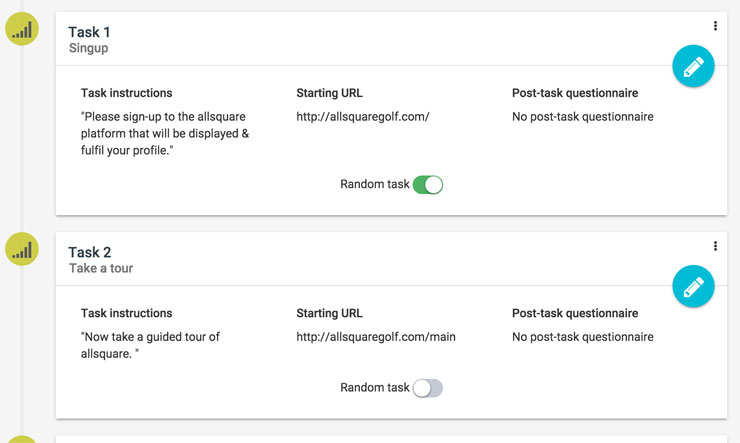 New interface for creating success conditions
Success conditions are now much simpler to implement. You can still use success conditions based on URL, text on a page, and advanced mode using HTML tags.
Option to duplicate a task
Questionnaires
Option to add images to questions
You can now illustrate your questions using an image, a photo or a logo to give the participant more context.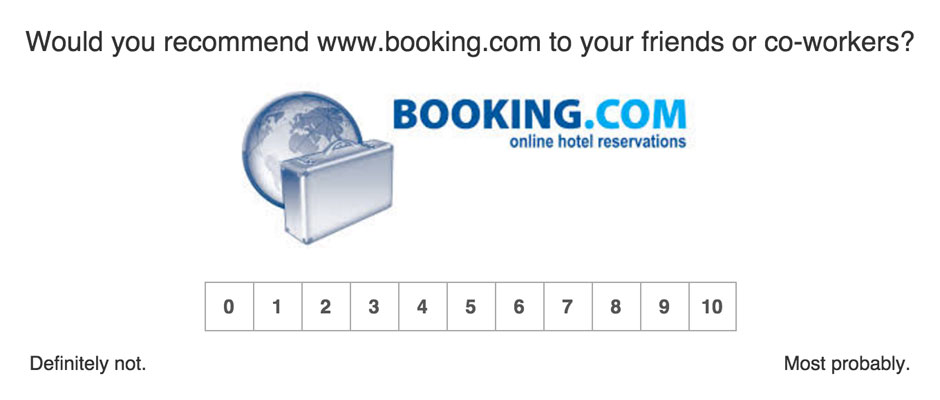 Adding images to each question choice 
For example, this feature lets you ask users which version of a design they prefer.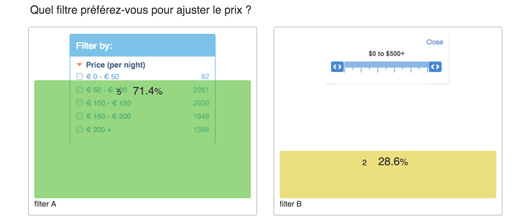 'Other' choice (written answer) for closed questions
You can now add an open field to your closed questions (multiple choice or single choice).
Grid questions
This type of question will help you create a questionnaire more easily, while making it simpler for participants to enter their answers.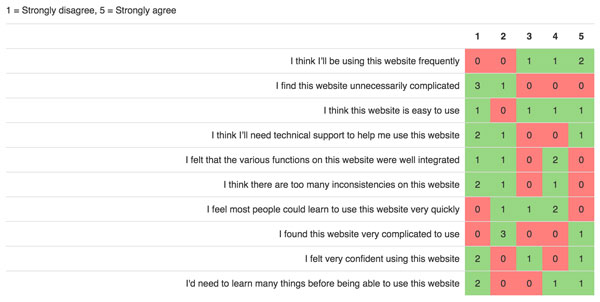 Scale questions
These questions are useful when participants need to express an emotion or viewpoint.

Ranking questions
Ask your participants to arrange items in their order of preference.
First click testing
First-click testing lets you find out where users would click if they had to perform an action on an interface. For example, this allows you to validate the position or design of a button that executes an action on one of your mockups, or on the screenshot of a Google results page to analyze SEO. The results are then displayed on a heatmap and clickmap.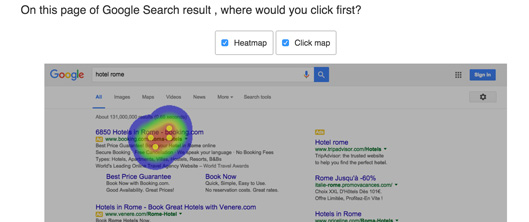 Questioning participants when a task fails 
In an Evalyzer test, participants can give up on the current task. Although we can generally determine the reason for failure from the test videos, it may be important to ask participants why they gave up on a task. This provides you with complete feedback about each test scenario.

Success conditions based on a quiz
You can now base the success of a task on the answer to a quiz. For example, in a task where the user has to find the dimensions permitted for cabin baggage on a given airline, you can ask the participant to choose what they think is the right answer from a list of dimensions. If they choose the wrong answer, they will automatically be considered to have failed the task.

Testing process from the participant's side
Option not to prompt participants to enable their microphone/webcam
Some user tests require a high level of confidentiality. You can now ensure that participants are not prompted to enable their microphone and webcam.

Participants can take part anonymously if you want
Another feature for tester confidentiality: you can allow participants not to identify themselves when logging into a test.
Test results
Generating a white-label PowerPoint report
This is a long-awaited feature for some of you. You can now export the whole of your test, including the results of questionnaires and tasks, into PowerPoint format. This will save you considerable time when presenting your test results to your customers or colleagues!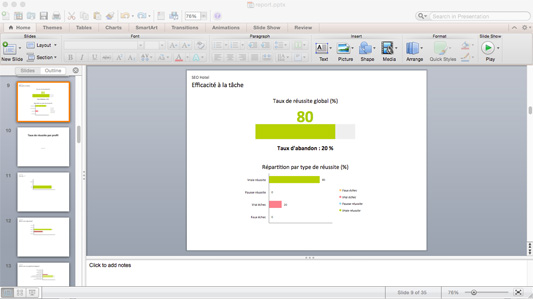 Automatic handling of System Usability Scale and Net Promoter Score
This is another feature that will save you time. You can put away your Excel spreadsheets, as Evalyzer will automatically process the data from these questionnaires.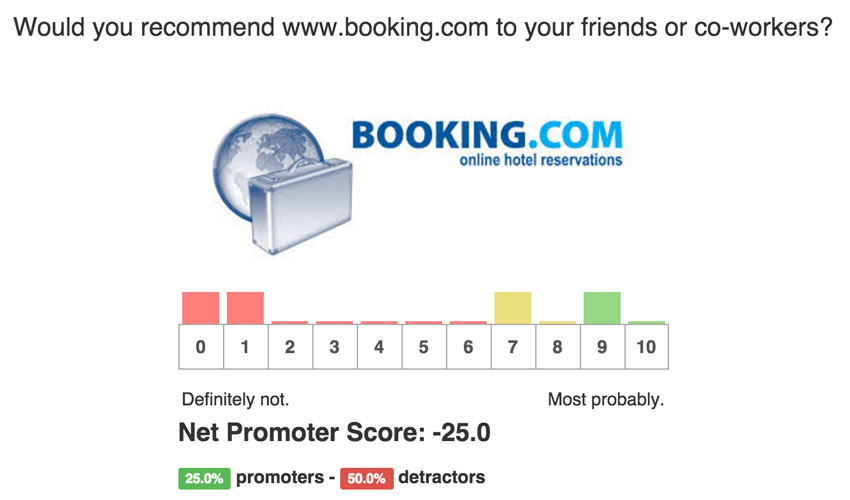 Option to instantly view the video for a participant's comment
Can you see a negative (or positive!) comment about your interface? You can instantly replay the session for the participant that made this comment, so you can understand exactly what happened and find solutions.
Would you like to see more new features in Evalyzer? Don't hesitate to enter your suggestions below!